Is there a future for professional translators, or will they soon be replaced by machines? There's been extensive and animated online discussion on this topic in recent months. In this blog post, I'll look at how to hone the key skills that are essential for your success as a translator, to help you raise your game, stay ahead of the machines, and build a fulfilling and fruitful professional career. [by Jayne Fox]
In my previous post (which I published a year ago – whoops!) I looked at the three most important skill sets for translators: translation skills, writing skills and subject-matter skills. Without these, it's just not possible to deliver translations that are fit for purpose. Of course, translators need an exceptional mastery of the source language (obviously!) and must be capable users of technology. And we shouldn't forget that freelancers need complementary skills in business in order to truly thrive.
It has always been important to cultivate these skills, but with recent advances in machine translation, it's more crucial than ever. As you've probably noticed, we're clearly not in Kansas anymore. I expect you've read The Economist's 'Why translators have the blues', which summarises the current pressures on translators, albeit from the slightly clouded view of an outsider. Although my perspective is not as negative as the author's, I totally agree with the veteran translator (hmm, who could that be?) who "counsels improving specialist knowledge and writing skills to get high-end work." The article also notes that "not all can do that. Translators in the bulk and middle markets will inevitably be doing more editing, or will be squeezed out."
Similarly, in his post on moving upmarket to escape the pressures in the 'bulk' translation market, Kevin Hendzel repeats his advice to translators to develop real subject-matter expertise, not just engage in 'lightweight CPD'. It seems there's a pattern developing here.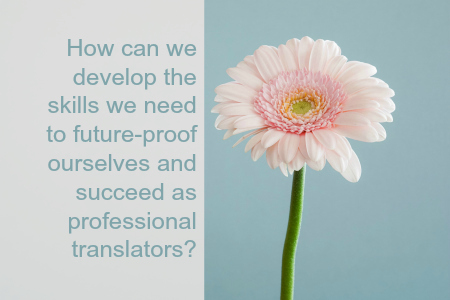 At the same time, it's not just translators who need to upskill to stay relevant. Knowledge workers are becoming learning workers, and lifelong learning is recognised as an imperative for low- and high-skilled workers alike.
So how can we develop the skills we need to future-proof ourselves and succeed as professional translators? Here are some things you can do to raise your personal bar and ensure you won't be replaced by a machine.
Translation skills
Obviously, we can't translate anything effectively if we don't have well-honed translation skills. But holding a degree in translation doesn't necessarily mean that you're ready to translate anything your clients throw at you.
Ideally, you'll never stop developing your skills. But how can you make sure that development actually happens?
One of the best ways to improve your translation skills is to get feedback on your work. If you're not receiving regular feedback from a reviewer, employer or agency, consider setting up a peer-review group in your language pair. Choose a text, give it to each group member to translate, and share the results with each other. This can be an excellent way to get feedback on your work and learn from your peers.
A few other ideas:
Join a translation association and work towards becoming a qualified member, if you're not already.
If you don't hold a formal qualification in translation, research what courses or examinations are available and take one as soon as you can.
Attend translation conferences, especially those with a strong focus on translation skills, like the "Translate in…" series for French<>English translators.
Analyse publicly available translations by comparing the source- and target-language versions. These may be books, articles or website texts. Note down any nifty translations and consider what you might have translated differently.
Research or study intercultural communication and apply your insights to your work.
Go to a translation slam or organise one to celebrate International Translation Day.
Source-language skills
As a translator, you're bound to be highly proficient in your source language. But that doesn't mean you can't develop your skills even further. How many of the following do you engage in each year?
Spend time in your source-language country.
Go to relevant events in your source language.
Read, listen, watch: YouTube/radio/podcasts/books.
Take advanced language courses.
Participate in (or set up) a regular 'language café'.
Read style and language guides (or the dictionary – a guilty pleasure!)
Writing skills in your target language
If you're not an exceptionally strong writer in your target language, you won't be able to translate convincingly. Crafting compelling target-language texts is always easier to achieve if you work from a foreign language into your native language, which is why this is standard practice in the major language pairs.
How does your writing compare to, say, that of your favourite journalist or author? What do they do well, and where do your own strengths lie?
No matter how polished our prose may be, we should never stop working on our writing skills. Here are some ways to develop them further:
Spend plenty of time reading texts in your specialist fields that were written in your target language. You should be deeply familiar with style and terminology used 'in the wild' and be able to produce texts yourself that are of the same standard. This is hard; it will take time and dedication.
Check whether there are any writing courses on offer at nearby universities. Or try this one on Writing with Impact.
Read books on writing. Like this one.
Get a style guide and refer to it often.
Write a blog, or write for online or offline publications. Bonus points if they're in your specialist field.
Get creative. Strange as it may seem, engaging in creative and stimulating pursuits can have a positive effect on the creativity of your writing. So go ahead and visit that gallery, watch that play or take up tap dancing. Your mind will love you for it.
Most of all, don't work alone. Collaborate with your peers and get feedback on your writing. This is not optional and is one of the most important things you can do to sharpen your skills.
Subject-matter skills
When you first start out as a translator, it's tempting to think that your best way to get work is to be a jack of all trades. The more topics you can take on, the more work you'll get, right? Well… yes, if you want high volumes. But if you want high value, things look quite different.
As you advance in your career you'll probably find that, at least in the major language pairs, the translators who are really sought after are the ones who are experts in a particular area. This subject-matter expertise can make it easier for you to find interesting clients that are the perfect match for you and your skills.
The ideal way to develop skills in a specialist area is to go and work in the field. This can be very rewarding and give you a deep understanding of the subject matter and terminology involved. You may also have previous career experience that can provide an invaluable background for your translation work.
In developing subject-matter skills, once again, collaboration is paramount. Find a way to work with an experienced reviewer who specialises in your field. This is the only way to ensure your translations always hit the mark and you become a true master of your craft.
Other activities to continue developing your subject-matter expertise include:
Studying the specialist field at university level.
Joining a professional association in your field of expertise.
Going to conferences or events and developing contacts within the field.
Reading relevant books and trade journals.
Doing online courses or 'MOOCs' on the topic.
And a note of caution: don't take on demanding, specialist texts with the intention of picking up the terminology as you go. This is a recipe for disaster that will give you nightmares while simultaneously ruining your reputation – or could even put lives at risk and land you in court.
Business and technology skills
Freelance translators and interpreters also need to develop a range of business and technology skills.
Thankfully, there are some excellent books available on business aspects of freelance translation. My personal favourites are The Prosperous Translator by Chris Durban and The Business Guide for Translators by Marta Stelmaszak. These two books are polar opposites in style and approach, but I found both immensely useful. Marta also has a wonderful Business School blog as well as a selection of other publications to download, including many at no charge.
For face-to-face training on business skills, contact your local Chamber of Commerce. It's also worth checking out whether any local education providers offer business training, or having a look at the business courses offered through Coursera. One that I enjoyed is Introduction to Marketing, which is run by the Wharton School at the University of Pennsylvania.
Another interesting option is Seth Godin's Freelancer Course, offered via Udemy. In this series of short videos, Seth explains how to produce remarkable work so that clients start coming to you.
As for technology skills, translators need to know their way around standard office applications. Many of us use computer-aided translation (CAT) tools, which can help increase consistency and quality, and speech-to-text applications such as Dragon NaturallySpeaking to boost productivity.
There's a lot of information online about how to use these tools, including online help, YouTube videos and webinars. There are also a few tech books for translators that you might find useful.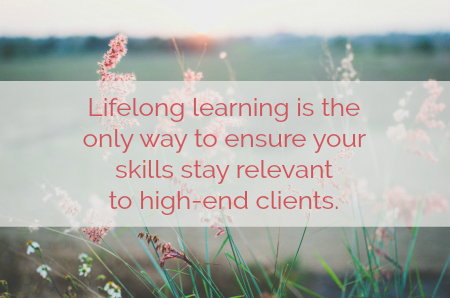 Where to from here?
So what does this mean for you? Well, as we've seen, the need for ongoing professional development has never been greater. Lifelong learning is the only way to ensure your skills stay relevant to high-end clients.
By continuing to develop your expertise, the value of your work will steadily increase. But this will only happen if you're committed to ongoing learning.
It's up to you to carve some time out of your busy week and spend it on skills development. And as usual, there's no time like the present. So why not start today?
By Jayne Fox, German-English translator with a focus on health care, sci-tech and corporate communications.
P.S. In my next blog post I'll look at how you can put all of these development options together to create your own learning plan. In the meantime, let me know your thoughts and feedback in the comments below.
Please note that I do not have a commercial relationship with any of the organisations or individuals mentioned above.